Internships at Denali
Internships at Denali offer opportunities to work on purpose-driven projects. At Denali, we care about you and your development. Your eyes will be opened to possibilities you could not have imagined as you collaborate with some of the most dedicated and brightest mentors in the field. You will join your peers and leaders for educational lunch-and-learn sessions and social activities. And you will not leave Denali empty handed. Yes, there is some really cool swag, but -- more importantly -- you will have forged meaningful connections for a lifetime. Come join in our mission to defeat degeneration, taking one step closer to helping patients and building on the path towards your future.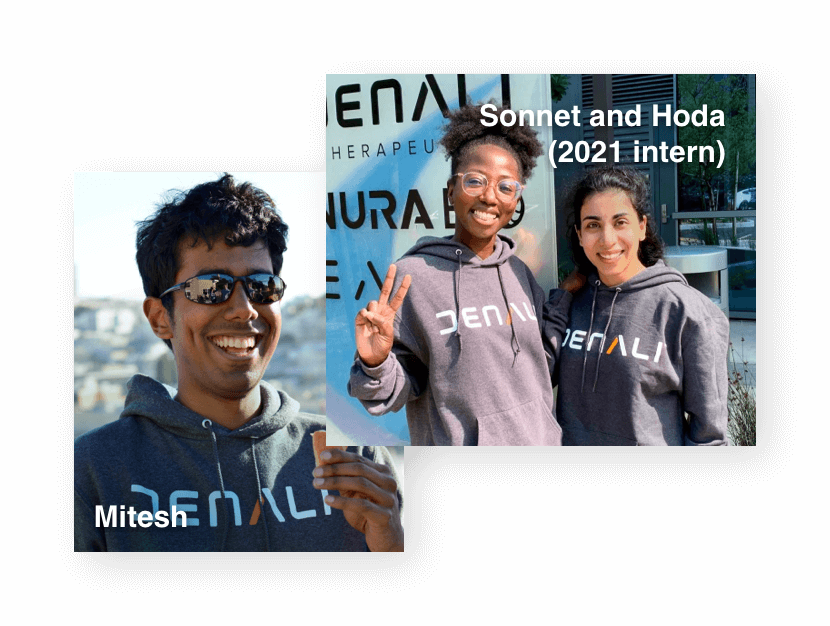 For more information on internships at Denali contact our team below
Application Period: December-January 
Denali typically offers 15-20 internships per year
Internship Cycle: 3 months, typically sometime in the May-September timeframe
All internships are full-time, paid positions 
(for the 3-month internship)
Experience required for internships varies by position from Bachelor's level through PhD level
My internship at Denali was an invaluable experience. Working across disciplines with so many motivated scientists really prepared me to pursue a career in biopharma.
Amber, modeling and informatics intern, Summer 2021
My internship at Denali helped me to not only hone my existing skills but also to develop new ones. My time as a Denali intern provided me with an opportunity to grow professionally and personally.
Hoda, metabolomics/lipidomics intern, Summer 2021